By Bash Sarmiento
Hurricanes are common natural disasters. However, they are one of the most devastating occurrences that can happen when they hit you unprepared. Think about homes beyond damage, storm surges, and the cost of repair you will face after the storm. It is why preparing early before the hurricane season is the smartest thing you can do to get you safe and ready for the worst-case scenarios that hurricanes can bring.


Here are some essential tips that can help you create a hurricane plan from assembling the things you need before the storm hits, staying safe during a disaster to getting back on your feet and dealing with the hurricane aftermath once it passes.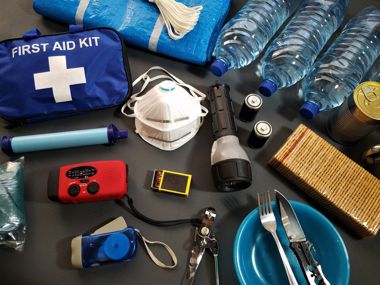 What should you do before a hurricane?
1. Assess the situation. Keep track of the current news and ocean weather forecasts to determine the storm trajectory. Will it directly hit the location of your residence? Do you reside near the coast? Usually, your local disaster prevention department will keep you posted if you need to evacuate or not, so make sure to be in the know of the latest hurricane updates in your area.


2. Save emergency contacts. Get the contact information of rescue channels in your locality. These will come in handy when the storm situation goes out of hand. During power outages, prepare an analog telephone and have backup emergency numbers from the medical rescuers to risk disaster officers to ensure that you have access to help even when your batteries run out.


3. Ensure safe home precautions. Designate a "safe room" that is least likely to take damage from the hurricane. It is wise to pinpoint the vulnerabilities of the house to adverse effects of the storm like flooding and tornadoes in planning measures of keeping your properties safe. Put down art decors and wall hangings and keep them in a drawer for safety.


Inside the household, make sure to store water in tubs and pails to have enough in case power will be out after the storm. Unplug appliances and put them on higher ground to reduce the risk of damage. Securing doors is also necessary to prevent them from being dangerous projectiles when the wind gets stronger. It applies to potted plants and hanging ornaments as well.


4. Prepare an emergency bag for each family member. Before hurricane season comes, prepare an emergency stash for each family member. These bags will be helpful when you and your loved ones get separated during the storm in which case, a predetermined place to meet up should also be discussed.


Make sure that the bag has the following essentials:


Non-perishable goods or canned food
Whistle
Bottled water or water purifier
First-aid kit
Power bank
Radio
Flashlight
Extra batteries
If you have pets, keep a separate bag for their food and medicine and a trusty carrier to hold them safe if you need to evacuate.


5. Back up important files and assets. Enclose important files like passports, deeds, bank documents, and identification cards into stormproof storage. You can also scan and upload these documents into cloud storage or a flash drive to keep an official digital copy.


If evacuation is needed, having inventory software that can store all of your assets from household items to car details and other goods may come in handy for insurance purposes.


What to do during a hurricane?
6. Monitor live weather updates. Keep your radio or television open to stay connected with what is happening around your local area. This way, you can fully grasp the situation if you need to evacuate immediately.


7. Keep away from glass doors/windows. Take shelter in the safest room in your home. Bathrooms and basements can provide the safety you need if the storm persists. Grab materials that can shield your head and body from falling debris or flying projectiles.


8. Keep the main power off. If the power goes out during the storm, turn off the main power switch to prevent damage to your appliances. Do the same in case of heavy flooding.


9. Don't leave your cars parked under posts or trees. Doing this could potentially damage your car, especially if the hurricane brings massive winds or tornadoes.


10. Remember, it's dangerous outside. Floods can rise quickly and storm winds are unpredictable, so unless it is completely necessary or an immediate emergency, stay indoors.
What to do after a hurricane?
11. Assess the aftermath. Before anything else, check the status of the house and the damages incurred. Before starting your appliances, make sure that the area is dry and there are no areas that can cause fire or accidents.


12. Reach out for help. Watch out for loose power lines, uprooted trunks and lamp posts, and falling debris. Call emergency hotlines to have them repaired or as soon as possible. If you get separated from your loved ones, try going to evacuation centers or shelters and reaching out to volunteers and officers to connect you with them.


13. Clean up and begin minor repairs. Wipe and remove flood water as soon as possible to avoid mold in your house. Floodwaters can also cause disease and contamination so stay away from them as much as you can. Wear protective gear as you clean up and begin repairing.


14. Be careful when drinking water. It's important to be precautious on after-storm food and beverage preparations. A water purifier can come in handy during this time to protect your loved ones from the risks of diarrhea or contamination.


15. Take pictures of damages for your insurance. Storm damages can cost a lot. Keeping track and recording your damaged properties like your house and car serves as documentation for your insurance company.


You can never be too safe in times of catastrophe. Experiencing them can be scary, but with enough preparation beforehand you can survive.